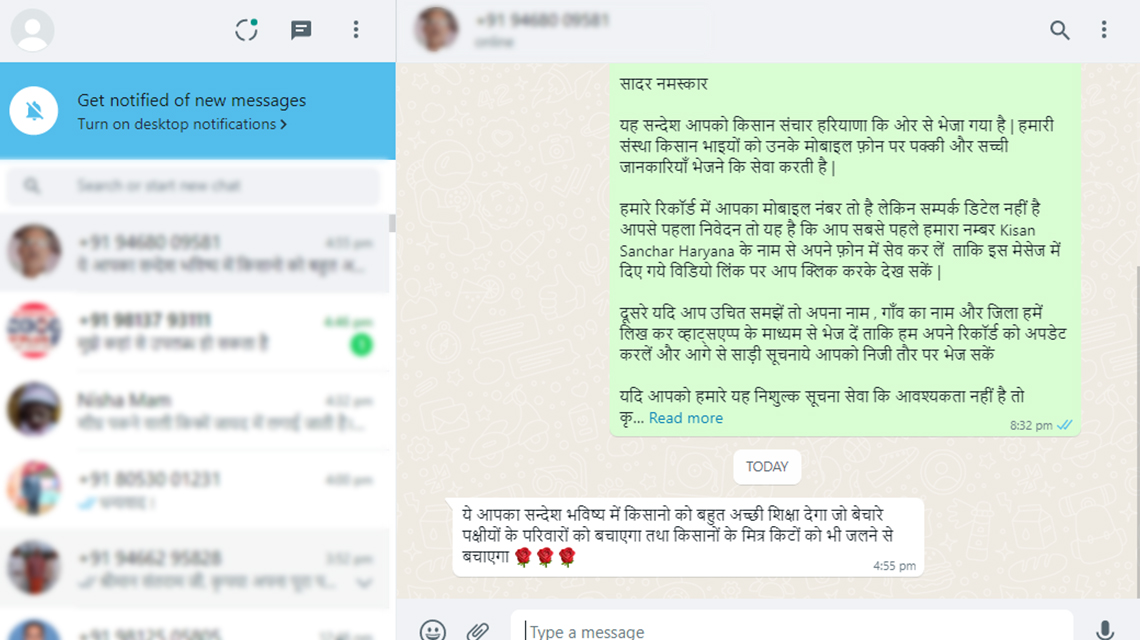 Message Dissemination Among Farmers
The burning of paddy residue (stubble burning) by farmers in Punjab, Haryana, and Uttar Pradesh is one of the key contributors to air pollution in Delhi and its vicinity. There is a strong need to reduce the area under paddy cultivation in the states mentioned above. To empower farmers in the paddy-growing districts of Haryana, Punjab, and Uttar Pradesh, Wingify Foundation, in partnership with Kisan Sanchar, has launched "Prithvi Sanchar."
Prithvi Sanchar aims to empower 50,000+ farmers in the areas mentioned above by sharing information and knowledge-based communication services on Crop Residue Management, Crop Diversification, and the success stories of 500 farmers undertaking these practices using WhatsApp.
An introductory message about the Prithvi Sanchar project was disseminated to more than 50,000 farmers. A statement about "A beautiful Insight shared by farmer Jagjeet Singh, a farmer from Bhartala Ludhiana, regarding his reasoning for not disposing of Crop Residues by Setting fire" was disseminated to more than 60,000 farmers of Punjab, Haryana and Uttar Pradesh. He observed that stubble burning harmed small birds and animals in its surroundings. He, therefore, decided to stop burning crop residue and adopt crop diversification.
Shri Harmanpreet Singh, a farmer from Amritsar, adopted crop diversification and shifted from growing paddy to growing Avocado. This shift resulted in higher profitable yields and lesser environmental degradation.