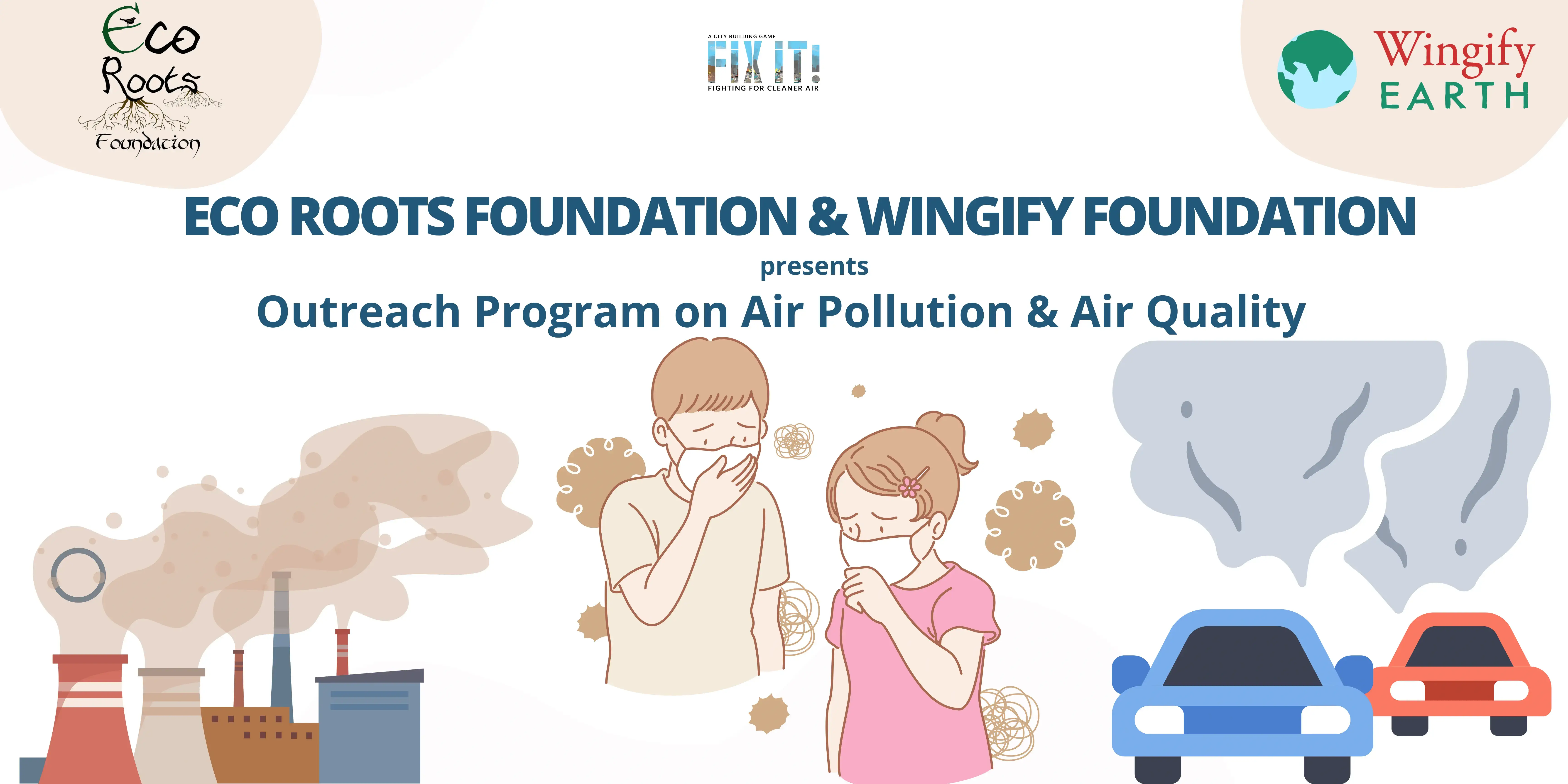 Vayu Rangmanch and Best Practices
Under the Wingify Earth Program, an innovative board game that uses the model of city building and creates sensitivity towards Air Pollution called 'FIX IT! Fighting for Cleaner Air' incites the thought and action among the students towards protecting our Earth from Air Pollution to have a safe and healthy life.
We started this project with a partner organization to activate the FixIt game in more than 50 educational institutions in Delhi and make the students aware of Air Pollution and what they can do to have a greener Delhi with safer air to breathe. The game activation and awareness workshops followed a series of Inter-School and Inter-College events organizing competitions around the theatre, and Best Practices will be implemented. After this, the teams from those institutions united and celebrated their work toward a cleaner and greener Delhi. The top 10 institutions presented a theatre on Air Pollution along with sharing their best practices at the concluding event called "Vayu Utsav," acknowledging the students' efforts in different categories and giving out awards to schools for theatre and Best Practices. Similarly, colleges also received recognition for theatre and Best Practices.
Two Competitions
There were two competitions, one on Theatre and one on Best Practices around Air Pollution.
Vayu Rangmanch – The Theatre on Air Pollution was organized because we believe it is a powerful medium to reach out to the masses as it's a visual medium and hits audiences of all kinds. So, all the schools and colleges being visited for the Activation and the Awareness Workshop were oriented on Theatre via the professionals who helped them prepare the Theatre for the Inter-Institution Competitions. The two theatre groups chosen from each zone were trained for three days each by Theatre. Groups improved their theatres for the Vayu Utsav.
Best Practices – This competition was also like a Monitoring Tool or Impact Evaluation tool for the project. During the Inter-Institution Competition, the students presented what they learned during the workshop and how that had brought a behavioral change in them towards Air. This was to determine how efficient our chosen Vayu Rakshaks are and what has changed in the schools because of them.
Post the Zonal Rounds; the teams were prepared for the Vayu Utsav, where they had to present on how many people or families they were able to reach out to or have impacted a cleaner and greener Delhi with a better Air Quality Index.

Project Objectives
We spread awareness and sensitivity among the younger generation of Delhi to make them understand how our combined actions led to such poor Air Quality in Delhi.
Further, the students became aware of what steps and measures could be taken toward a greener and cleaner Delhi.
Motivating at least ten students in each school and each college who became the Vayu Rakshaks took on the onus of spreading the message across their school and city.
We promoted cross-learning among the city's schools by engaging them in the concluding "Vayu Utsav," where the performance of the ten best theatres and ten best reports on Best Practices were organized - six from schools and four from colleges.
Scope of activities
Identification of schools and colleges in Delhi NCR.
Activation and Awareness Workshops were organized in these 50+ selected schools and colleges.
Orientation of Teachers for Theatre on Air Pollution was organized in each of these 50 institutions.
Zonal Competitions for schools to shortlist the best in two categories: Theatre (Vayu Rangmanch) and Best Practices.
Vayu Utsav was organized, including the best ones from each zone for each of these three categories and selecting the best in each category.
Impact we expect
The project was able to reach out to at least 200 direct beneficiaries during the Awareness and Activation Workshop making it to a total of 10,000 students in the 50 institutions we aimed to reach out to.
In addition, the institutions were requested to present their prepared Theatre to the whole school/college, making the message reach out to at least 1000 children on average in each institute, making it a total of 50,000.
Further, the Impact was evaluated from the Best Practices Report being presented by each institute. Hence impactful implementation became our responsibility.
The Vayu Rakshaks were tasked with reaching out to a broader network outside of their institute as part of their exercise for the Vayu Utsav. Hence, we expected another bump in the number of direct outreach of the program, making it to a total of at least 1,00,000 direct outreach. Overall the program could reach 1,00,000 families making the outreach to a minimum of 4-5 lakhs.
Since we were engaged with the RCT method for Impact Evaluation, we had an effective program.