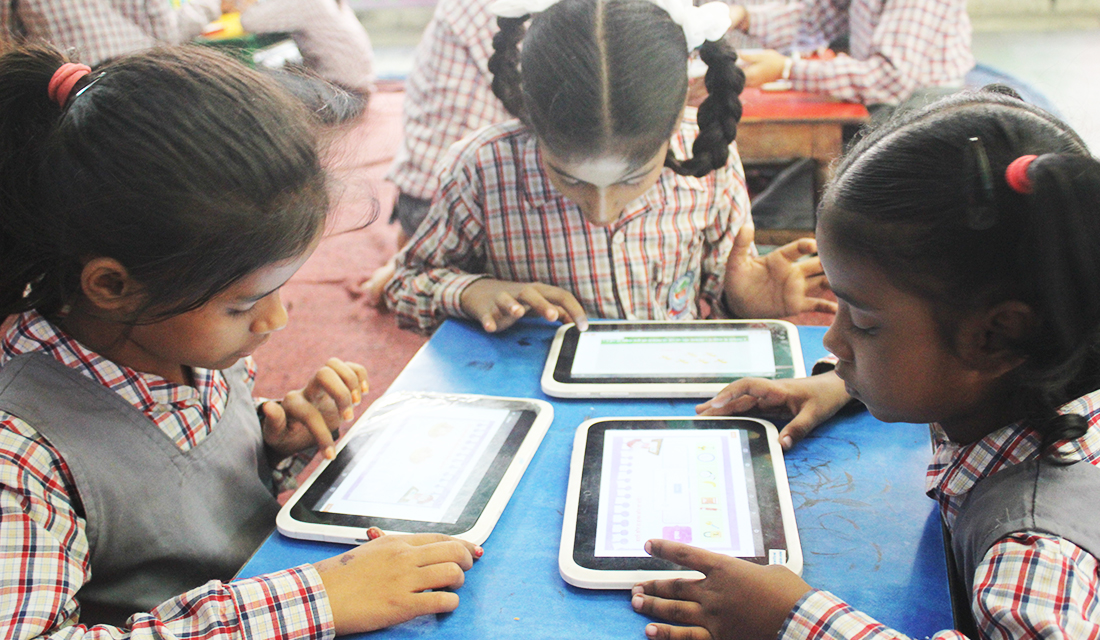 Creating a Better Environment for Children
Delhi is among the most polluted cities in the world. The high impurity levels in its air have led to many health issues among young children and adolescents. As per the State of India's Environment Report 2018 by "Down To Earth," the national capital witnessed only one day of good air quality out of 57 summer days and none during winters out of the 61 days analyzed. Delhi has often recorded PM10 levels much above 900μg/m3, which is nine times higher than the safe limit, and PM2.5, much above 200μg/m3, i.e., three to four times higher than the safe limit.
Wingify Foundation believes that schoolchildren have a vital role in solving Delhi's air pollution problem. Under the flagship CSR initiative Wingify Earth, we partnered with the Society for All Round Development (SARD), a Delhi-based non-profit organization. This partnership aimed to sensitize children about the damaging effects of air pollution, create awareness about the importance of clean air, and recommend possible ways to achieve this laudable objective. All this was done by creating and delivering creative child-friendly print and electronic media at the early stages of development. This is when children learn values from their parents, society, and surroundings that define them as adult citizens.
Hence, the activities undertaken in this partnership aimed to positively influence the future of India's climate story by bringing behavioral & attitude changes among school children, their parents, and peers. Through positive reinforcements and information dissemination, the team was continuously working towards sparking an interest in caring for and protecting the environment.
What do we aim to do?
The team adopted a systematic approach to work on air pollution. Thorough discussions and workshops with participants from organizations like the National Book Trust (NBT), State Council of Educational Research and Training (SCERT), District Institute of Education and Training (DIET), Delhi traffic police, Delhi Metro Rail Corporation (DMRC), and MCD officials, Public and Private school teachers along with executives from SARD and Wingify Foundation have driven the e-content and booklet creation.
The content ideas curated from the first workshop were incorporated to create the final stories for the booklet during the second workshop. The third and final workshop was conducted to review and finalize the story content with the book design. Content feedback from the schools is also incorporated into the booklet and e-content.
With the e-content and booklet design ready, the team ran a baseline survey to analyze students' understanding of these issues. Multiple sessions at each school facilitated students' exposure to the e-content and booklet, and an end-line survey was performed to check the effectiveness of the content. For competition guideline creation, experienced SARD team members collaborated with domain experts to ascertain the feasibility.
The team's collaboration with the Delhi Traffic Police, Delhi Transport Authorities, Delhi Pollution Control Board, Delhi Cantonment Board, New Delhi Municipal Council, etc., shall effectively scale up and disseminate the project learnings. We believe that being the future change-makers of the country, it is vital that children understand the sources and proven solutions to reduce air pollution. Through this initiative, we intend to imbibe a sense of responsibility among school children towards the environment through interactive content & resources like stories, illustrations, competitions, and more. The aim is to start young so the next generations not only bring positive behavioral change in their lifestyle and make sustainable life choices but also encourage their peers, families, and communities to do the same.
Our Interventions
Developing print and e-content for school children: The team has developed a story booklet with the support of MCD teachers and DIET Lecturers. This child-friendly booklet consists of key facts on air pollution through illustrations, stories, etc. One such story is "Kaun Banega Vayu Rakshak," which focuses on different causes of air pollution and its solutions. More than 15 e-Content modules are produced, consisting of poems, stories, and games. The content thus created will help bring behavioral change among the community and students in particular and help them visualize and implement possible solutions in their daily lives.
Organizing awareness-driving competitions: A competition platform for students has been created and hosted on Wingify Earth's website. This platform, open for external sponsors at a later date, shall host different competitions around air pollution and other environmental sustainability issues. A panel of experienced individuals from leading organizations will judge and choose the best performers. This initiative is expected to bring out the best in the young minds to handle the impending air crisis.
Project Activities
Identify the potential schools and the community (both public and private schools).
Development of a story booklet with the help of NBT
15 Interactive modules in the form of Audio and visual content.
Baseline survey to understand the need and understanding of the audience.
Pilot study with School children and teachers of 15+ South Delhi Municipal Corporation schools and five affordable private schools.
Assessment study to check the impact of the pilot program.
The impact we expect
The guiding force behind this joint initiative of Wingify and SARD is two-fold. First, air pollution is one of the greatest scourges facing humanity today. And second, children are the undisputed change agents. Stories of activists like Greta Thunberg, Licypriya Kangujam, Timoci Naulusala, and many more testify to the role and contribution of conscious young children in shaping the climate future.
The project aims to give school children easy access to research-backed resources on the importance of clean air and the dangers of air pollution in their early formative years. This will help mold them into responsible citizens sensitive to the environment.
Project Impact:
Panel for Content Writing - SARD facilitated interface meetings with officials of MCD, DIET, TERI, Delhi traffic police, Delhi Metro Rail Corporation, and social activists in forming an expert panel to prepare the relevant content on air pollution for the children in the schools of Delhi. The panel decided to organize the e-content through audio video by stories and poems with field testing and develop board games with pre- and post-assessment.
Story booklet - A visit to NBT was made to understand the various books on several topics created for children. SARD prepared a storybook, Vayurakshak/Air savior, on awareness of Air pollution in Hindi and English. This colorful booklet has a story that explains the causes of air pollution and how to reduce it through different characters and situations.
Pilots study in schools - 15+ Municipal Corporation primary Schools and four affordable Private schools were identified to conduct a pilot to understand the scope and replication in the other Municipal Corporation and private schools. IEC materials consisting of videos on air pollution, the Vayurakshak/Air savior storybook, and board games were distributed to schools to make children aware of air pollution.
Donation of Book nest and Projector - B3 Raghubir Nagar school was visited by the Wingify team for the pilot implementation of the project. A book nest has been placed in the MCPS B3 Raghubir Nagar school premises to provide a better learning experience than conventional classroom teaching.
Development of e-content - Ten interactive video capsules made on the importance of understanding the effects of Air Pollution. Several workshops and training sessions were conducted to ensure the quality of the e-content. Check this to see the Student Learning Material - Click Here
Competitions on air pollution - 12 competitions on the themes of the IPCC report and predominantly on Air pollution have been finalized with guidelines, and details of the competitions were prepared. Competitions such as Essay Writing, Model making, short film, and theatre are designed with a dedicated theme to make the children learn while doing the activity and give the best possible solutions to air pollution issues.
Launch of IEC Kit - Inauguration of the IEC Kit Video capsules, book, and games on air pollution was held at IIC, Lodhi Road, on 3rd November 2022. Mr. Vikash Tripathi (Director of Education MCD Delhi), Mr. Anil Chopra (Trustee Wingify), Mr. Sparsh Gupta (Co-Founder Wingify), Dr. Shankar Choudhary (Consultant, former UNESCO program officer), Dr. Nitish Dogra (TERI Scientist) and Mr. Sudhir Bhatnagar (CEO, SARD) were present to launch the videos made on Air pollution, Vayurakshak/Air savior booklet and board games. Ms. Tulika from Lung Care Foundation presented on the effects of Air Pollution. Besides that, many MCD teachers and DIET Ghumanhera members who contributed during the workshops and story-building sessions of the booklet were also part of the launch event.