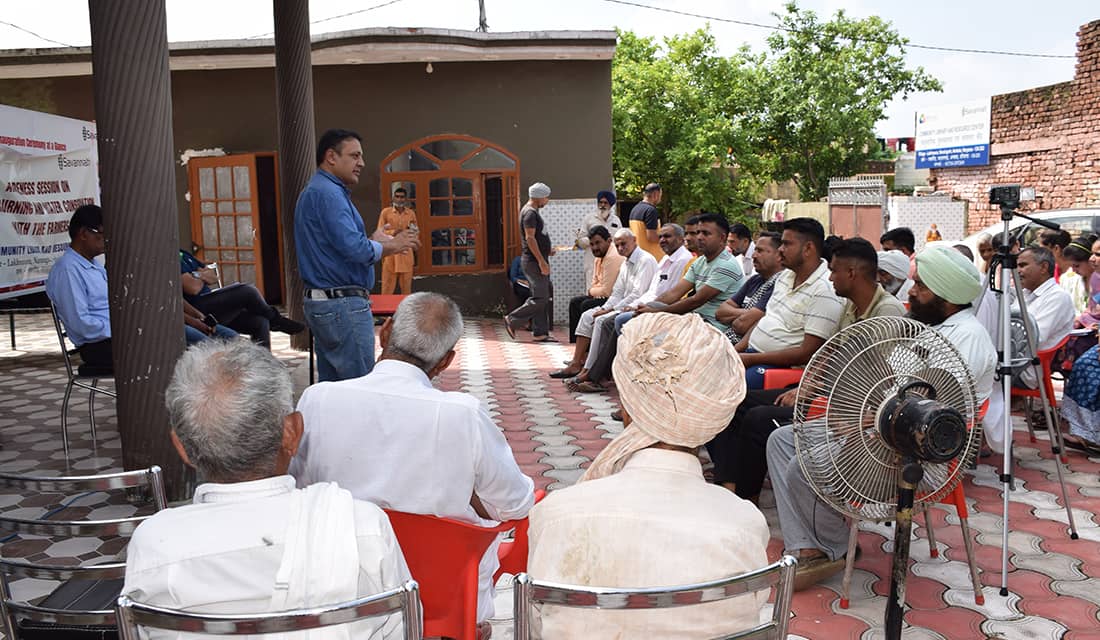 Changing farmer's perception & behaviour in paddy farming and stubble management
The burning of paddy residue (stubble burning) by farmers in Punjab, Haryana, and Uttar Pradesh is one of the key contributors to air pollution in Delhi and its vicinity. There is a strong need to reduce the area under paddy cultivation in the states mentioned above. To empower farmers in the paddy-growing districts of Haryana, Punjab, and Uttar Pradesh, Wingify Foundation, in partnership with Kisan Sanchar, launched "Prithvi Sanchar."
Initiated with a survey to find out why farmers grow paddy and not any other crop, Wingify Foundation and Kisan Sanchar joined hands to decipher the psychology behind agricultural choices made by these farmers. With Prithvi Sanchar, the ultimate aim is to understand the following:
What motivates the farmers in Haryana, Punjab, and Uttar Pradesh to cultivate paddy despite its harmful environmental effects, soil, water, and human health?
What drives farmers to practice or not practice crop residue management?
Why do farmers not adopt crop diversification?
The survey formats were designed with liberal inputs from three modern behavioral science theories. Theory of Planned Behaviour (TPB), Health Belief Model (HBM), and Value belief Norm (VBN).
What do we aim to do?
Prithvi Sanchar aims to create general awareness about sustainable agricultural practices among farmers. The focus is encouraging farmers to grow Kharif crops, a better alternative to paddy cultivation, thereby reducing burning rice stubble. It also aims to bring about positive changes in farming practices through continuous dialogue with 50,000+ Haryana, Punjab, and Uttar Pradesh farmers.
A proper crop residue management system eventually tackled more significant environmental issues such as depleting groundwater, increased air pollution, soil compaction, diminishing microbial population, and other health hazards.
The first step towards achieving the goals of Prithvi Sanchar is to identify and create a database of 50,000+ farmers from different districts of Haryana, Punjab, and Western Uttar Pradesh, and the second step is to introduce them to the activities and vision/goals of Prithvi Sanchar and get their consent to receive updates via WhatsApp messages.
Once participation consent from the farmers was received, the final step was to kick-start the activities and share success stories of farmers who have adopted Crop Residue Management & Crop diversification practices.
Our Interventions
Multiple activities were undertaken, like identifying, creating, and sharing 500 farmer videos promoting sustainable crop residue management, surveying 50+ paddy-growing farmers about their cultivation, and Crop Residue Management practices to empower the farmers.
Under the Prithvi Sanchar project, collaboration with students from 50 schools in poster-making activity on Crop Residue Management and Crop Diversification and networking with various institutions like NABARD, Agricultural University, Krishi Vigyan Kendra, Agriculture Department, Cooperatives and Farmer Producer Organizations and Companies, etc. was underway. Independent research on solutions used in other countries to manage crop residue was also conducted.
Project Activities
Broadcasting of Messages, Content Development in Hindi and Punjabi language, Prizes and Certificates to the Farmers and students, Farmer Activity, and response management. Telephonic Feedback Collection, Video Documentation, field Activities, Report Writing
Message Dissemination: Messages including content about crop diversification, residue management, and success stories of people who adopted crop diversification and abandoned Rice stubble burning among 50000+ farmers have been shared.
Gathering Success Stories: Shri Jagjit Singh, a farmer from Bhartala Ludhiana, observed that stubble burning harmed small birds and animals in its surroundings. He, therefore, decided to stop burning crop residue and adopt crop diversification.
(Interview Video Url - https://youtu.be/3HlCx71NIAA)

You can also visit our page 'Farmer's Videos' - Click here
Shri Harmanpreet Singh, a farmer from Amritsar, adopted crop diversification and shifted from growing paddy to growing Avocado. This shift resulted in higher profitable yields and lesser environmental degradation.
Impact we expect
Kisan Sanchar prepared the database of 50,000+ farmers to benefit them with Knowledge-based authentic, and actionable content on Crop Residue Management.
Farmer's participation - Dissemination of authentic and actionable information about Crop Residue Management using Bulk WhatsApp Sender Customize Message Technology to 50,000+ farmers in Punjab, Haryana, and Western Uttar districts Pradesh.
Video-making - Evaluation of videos made by farmers using 7 parameters. 500 shortlisting videos of farmers were submitted. These videos are being promoted from Wingify Foundation YouTube Channel.
Message Broadcasting - Useful messages were broadcasted, and farmers used WhatsApp Sender to access messages. The messages were based on the issues like, फसल अवशेषों में आग न लगाने का सुंदर कारण, अमृतसर के हरमनप्रीत सिंह ने एवोकाडो को बनाया है धान की खेती का विकल्प |
Poster-making - 800+ Students participated from different schools in Poster Making activities.