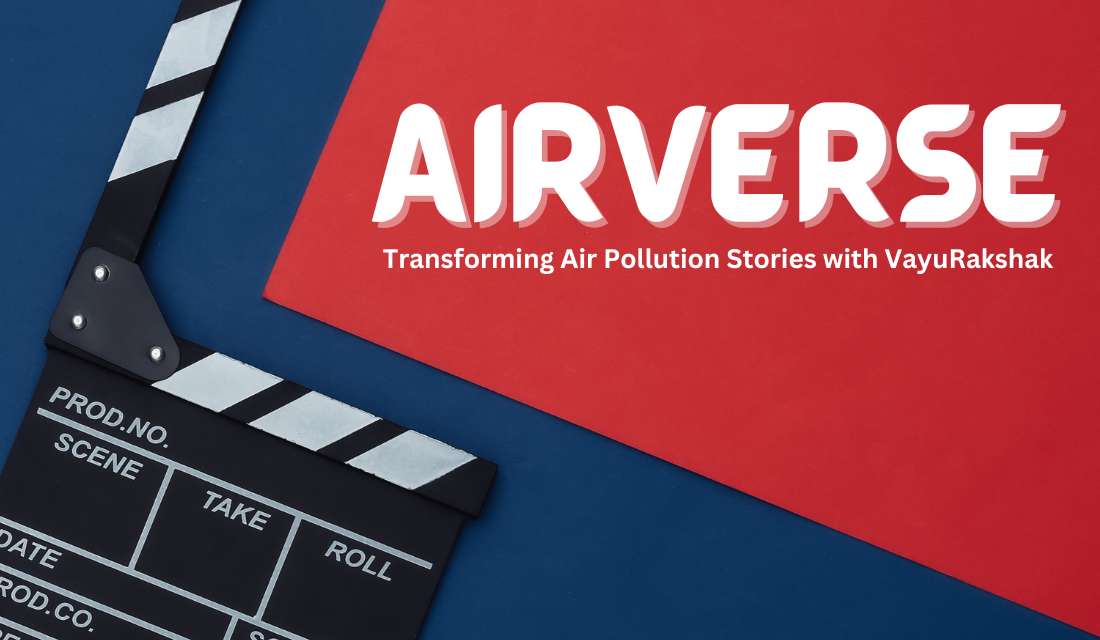 AirVerse: Unleashing Your Storytelling Superpowers Against Air Pollution!
Concept overview
Are you ready to embark on an extraordinary journey of storytelling and environmental heroism? Introducing AirVerse, a captivating competition where you become the protagonist in an epic tale of triumph over air pollution. Join us as we reimagine the battle against air pollution through the power of storytelling. With the mythical character Vayurakshak, who holds the wisdom of the elements, as your guide, you'll navigate through a world filled with the harmful effects of air pollution, face the challenges posed by air pollution, and transform the world into a better place. Unleash your creativity and become the hero our planet needs!
Competition Description
Welcome to Airverse! In this competition, we challenge you to create a captivating video that showcases the devastating consequences of air pollution and the inspiring actions you take, with Vayurakshak's assistance, to combat this pressing global issue.
We want your story to touch the hearts and minds of viewers, evoking a sense of hope, empowerment, and a call to action. Your video should be a masterpiece of storytelling, weaving together powerful visuals, compelling narratives, and impactful messages. Consider exploring various aspects of air pollution, such as its impact on public health, ecosystems, and the planet.
Participants are encouraged to think outside the box and employ their unique creative styles to engage the audience. Selected videos will be featured on Wingify Earth's official website and shared through various social media platforms, helping to amplify your message and extend the reach of your storytelling. Join us in this mission to raise awareness, drive change, and breathe life into a world free from air pollution.
Note: By participating in this competition, you agree to grant Wingify Earth the rights to use and share your video for promotional and awareness purposes, crediting you as the creator.
Eligibility
Students from various schools and University grades
Entrepreneurs and working professionals
Topics and stories for your reference are provided in the given link:
https://docs.google.com/document/d/139O46H4qNj1sDIOiERzc54A6M96oz7zrnUvcR1QA_SE/edit?usp=sharing
Judging criteria
Creativity & Impact
Topic Specific/Relevant to the topic
Quality of Video
Clarity of message
Storytelling Excellence
Rules:
The video should not exceed the mentioned time limits.
The video should be well-edited.
The enactment/presentation should be according to the story given.
Submission should be done within the mentioned time limits.
Process:
First, the participants must submit their details and information for the competition within the specified time frame.
The participants will be provided with a story according to their topic, which they need to present/enact in a video and then send to us.
Then they are given 10 days to prepare and submit their videos through Mail/Google form.
The submissions will go through the rounds in a week.
Results will be announced within a week.
Video Format
Video Timing - 3 to 15 min (animation videos permitted)
The Video Orientation should be in Landscape mode
Language of the video can be in English/Hindi/Local Language
Submission Format:
The video should be in MP4 format
Videos should be mailed or collected through Google Forms/unstop.
The video File should be renamed with the topic and name of the Sender (TOPIC_Competition Title_Name of Sender)
Rounds
Visual Creativity Round:
Participants showcase their creativity by producing visually appealing and engaging videos that capture the essence of air pollution. The videos should provide valuable information, present statistics, and suggest preventive measures to combat air pollution.
Jury's Choice Round:
The judges select a few outstanding videos from the previous rounds demonstrating exceptional creativity, storytelling, production quality, and overall impact —the final round.
Prizes:
Winner:
Paid Internship Opportunities worth Rs. 10k to 15k for 2 persons of the team
First Runner Up:
Reimbursement of 2 one-year Annual Subscriptions to CANVA Pro
Second Runner Up:
City Building Board game (Fixit) and VayuRakshak playing cards for each member of the team
All other participants will get a participation certificate from Wingify foundation.